How to Co-MASK
Translations in progress, contact us if you want to add your language.
We invite you to join a global project to create fabric masks that promote hope, humanity, and hygiene practices in time of crisis. Collaborating across borders, we want to raise awareness about the risks of COVID-19 infection and the need for physical distancing and self-isolation, while advocating solidarity with the most vulnerable in our global community.
Kiss and smile at a safe distance!
The project offers instructions in many languages for how to make masks in individual sizes at home. All you need are materials you will likely find at home: a cotton T-shirt, a kitchen cloth, and non-woven fabric. You do not need a sewing machine; scissors, thread, and needle will be enough. The masks are washable, have a nose clip, and allow you to insert a replaceable filter, such as a surgical mask. While the Co-MASK cannot prevent an infection with the Coronavirus, it offers protection from larger droplets and prevents you from touching your face. Suppression and self-isolation are the only measures proven to protect the larger community!
We hope to inspire you to create these masks for your family, friends, and your community to advocate self-isolation, hygiene, and heartfelt human connection. Please wash your hands and the masks before disseminating and be careful to distribute them without direct physical contact. Feel free to download / use our free graphic kit with illustrations explaining the safe use of masks and other hygiene practices (free for use under CC license).
Create your own mask with a kiss and a smile, post it on social media with the hashtag #CoMASK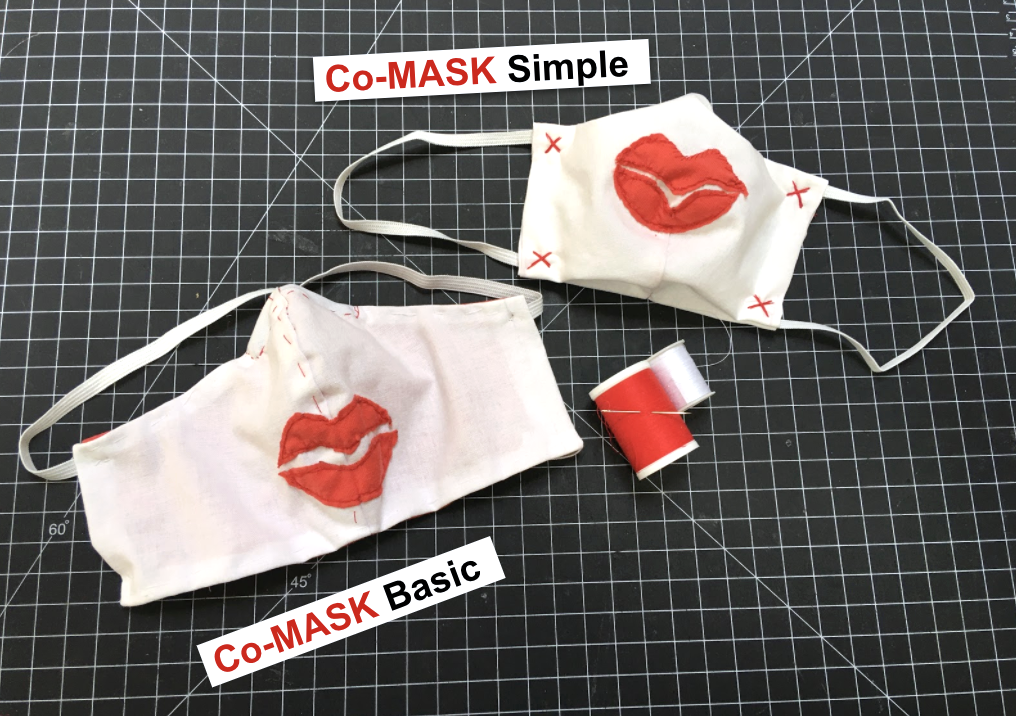 More information about the virus and hygiene measures:
CDC Recommendation: Why we should all wear masks!
CDC: How to protect yourself and others
CDC: How to disinfect your home, especially if you are sick
CDC guidelines on how to keep your workplace safe
More information about masks, their hygiene and effectiveness:
WHO advice: when and how to use the masks
A comparative study of fabric masks vs. medical masks
Scientific testing: What is the efficacy of the homemade masks?
Risks on getting infected though improper use of masks
Should you be wearing a mask? Experts disagree
A shared open source document on DIY masks and resources
Donate your masks:
Cambridge Health Alliance accepting mask donations
Forbes article: Calling for mask makers to address healthcare worker PPE shortage
Other excellent DIY masks with video instructions:
Simple formfitting mask using just one sheet of fabric (machine needed)
Face fitting HK Mask with sewing patterns in for babies, children and adults (machine needed)
Instructions for a simple surgical mask style mask (machine needed)
Download the PDF sewing pattern for the Co-MASK Basic type (printer needed)
Youtube video instructions - how to modify the MERV13 filter for the mask